Leah Remini spoke for the first time in an exclusive interview with ABC News "20/20" about what her life was like inside the Church of Scientology, as well as how Tom Cruise and the backlash she faced from the Church after his 2006 wedding to Katie Holmes were factors in her breaking with the Church.
The former "King of Queens" star, who publicly severed ties with the Church in 2013, is the most high-profile celebrity to leave Scientology and go public with her criticisms. She spoke with "20/20" about her new memoir, "Troublemaker: Surviving Hollywood and Scientology," and why she is no longer a member of the Church she served for 30 years.
"I know what my former Church-- how they deal with people who tell their story," Remini told "20/20." "And so I wanted to be the one to say it."
This week, members of the Church of Scientology delivered multiple documents and emails and made numerous phone calls to ABC News containing highly critical statements about Leah Remini, calling her a liar, "self-absorbed, rude and embarrassing," and sayingI always felt like I was kind of an outsider because I didn't have the right things," Remini said. "I didn't have a Cadillac. I didn't have, you know, plastic on my furniture. That was the right way to be, if you were Italian."
Her parents divorced when she was 7 years old. Her mother Vicki Marshall, searching for meaning, became deeply involved in Scientology, the religion founded by science fiction writer L. Ron Hubbard.
Vicki worked in the Scientology building in Times Square and said her understanding of Scientology's goal is "to free mankind, to make a sane world." She said she believed that she was "benefiting the planet" by working for the Church and that it would help her children in the long run.
"What was told to me … [was] look at what you're doing for the world, this is more important than… your family," Vicki said.
Eventually Vicki decided to bring her daughters, Leah and her older sister Nicole, into the Church. The girls began studying Hubbard's teachings and learning Scientology's unique terminology.
As a kid, this was a big deal, Remini said, because "Scientologists view children as spiritual beings."
"You are not treated as a kid, so you are given a lot of responsibility," she continued. "Your ego becomes extremely inflated."
When Remini was a teenager, her mother decided to enroll her and her sister in the Sea Org, the pious, uniformed, full-time religious order of the Church, and moved the family to the Church's spiritual headquarters in Clearwater, Florida, known as the Flag Land Base.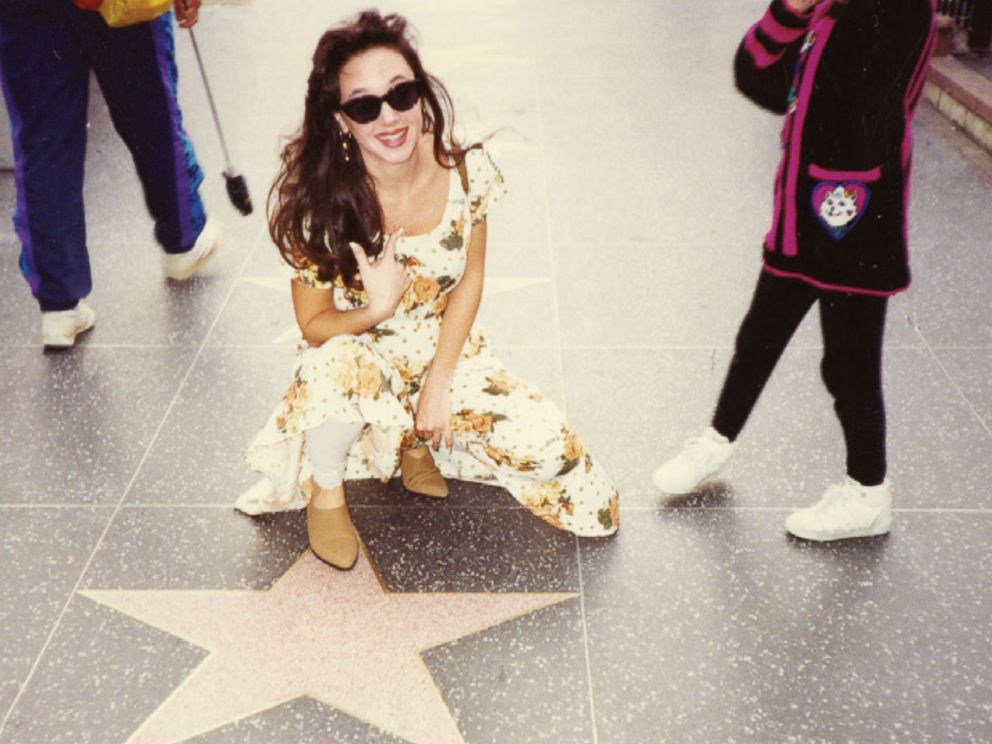 picture: orange formal dresses
Mike Rinder, who was once the spokesman for the Church of Scientology, is no longer a member and is now a very public critic of the Church. He said Sea Org members "are the people who have dedicated their entire lives to Scientology, who live in communal Church facilities, eat in Church facilities."
In statements to ABC News, the Church decries Rinder as a liar, "a bitter former member" and a "professional anti-Scientologist."
Scientologists believe in reincarnation and Sea Org members are expected to keep working every time they come back. Remini said, "They provide room and board and you work there and you sign a billion-year contract."
Both sisters said they were housed in a run-down former motel with "roach-infested" dorms they shared with other children. Leah Remini said she had to perform long hours of serious labor.
"It could go from working in a laundry room to working industrial sanders," Remini said.
For Remini, joining the Sea Org meant leaving traditional school in eighth grade and immersing herself in Scientology study. "It's more your education in Scientology is pressed upon… you're learning how to learn Scientology," she said.
But Remini said there were other things that prevented her rise in the Sea Org ranks.
"I would try to start a mutiny because I felt we deserved better rooms," she said.
Things came to a head, Remini said, when she and her sister were brought up on ethics charges for their involvement with boys. It was a serious violation, and Remini said Church ethics officers threatened to put both of them into the "Rehabilitation Project Force," a place for Scientologists who step out of line.
"When you have screwed up royally in the Sea Org, it's basically to reform you," she said. "You have to wear black. You have to run everywhere you go. You have to call everyone 'sir.' … So it's pretty severe punishment for an adult, not to mention a child."
When Remini's mother Vicki heard about this, she said she decided to pull the girls out of Sea Org.
The Church told ABC News in a statement that children are no longer admitted into the Sea Org, but that Remini was "dismissed … for her inability to maintain the ethical standards related to fraternization," and that she petitioned to stay but failed. The Church added that when Remini was a member, the living conditions at the Clearwater facility conformed to Florida state health codes.
"There was a big Scientology community there," she said. "We slept on someone's floor… we had nothing… we had a few bags of clothes."
Leah Remini threw herself into the practice and study of Scientology, known in the Church as "moving up the Bridge to Total Freedom," which she said, "it promotes that you're getting to high levels of awareness as a spiritual being."
"Moving up the Bridge" involves taking a series of courses and also participating in "auditing" sessions, a sort of counseling that employs a device known as an E-Meter. The process promises to release negative emotions.
Back in the mid-'80s, Remini said she was going through these types of sessions almost daily, which she had to pay for out of pocket. Between auditing courses and materials, she said that she spent "thousands and thousands, hundreds of thousands [of dollars]."
Needing money, Remini said she started waitressing and doing secretarial work, but then turned to acting and comedy, in which Remini said her experience in Scientology played an important role.
"There's tools that are... very helpful... to you in your life, to you as an actor," she said. "I walked into a room where some people might feel, you know, cower in front of a casting director, I wasn't."
Remini said she had an excruciating year trying to land acting gigs. She got a lead role on the 1989 TV show, "Living Dolls," but the show was canceled after one season. Over the ensuing years, Remini did hundreds of auditions and landed many small guest roles on TV shows, such as "Saved By The Bell," "Cheers" and "NYPD Blue." She even scored some leading roles in a few sitcoms, such as "Fired Up," and the Church was taking notice. Remini was featured on the cover of Scientology's official Celebrity magazine.
During this time, Remini met the love of her life, Angelo Pagan, one night when he was singing in a Cuban nightclub in Los Angeles. Pagan fell so hard for Remini that he got into Scientology and eventually left his wife to be with Remini.
"Had she been into Kabbalah or Buddhist, I would have done anything," Pagan said. "Muslim? Hey, give me the Koran, let's go. Baby, if it's working for you, I'm in."
Through Pagan, Remini became friends with Jennifer Lopez and her then-husband, Mark Anthony. Shortly thereafter, Remini got the call that would change her career -- she had landed the lead role of Carrie Heffernan in a new TV show called "The King of Queens."
How Leah Remini Met Tom Cruise The success of "The King of Queens" gave Remini fame, money and she says an increased prominence in the Church of Scientology.
Ex-Scientologist Mike Rinder said celebrities are treated "very differently" inside the Church "depending on how prominent they are."
"The Leah Reminis and the Kirstie Alley and the John Travolta and then ultimately to the Tom Cruise, it's a very different world that those people live in, a very different Scientology world," Rinder said.
Remini was appearing in Scientology videos by at least 1997 and eventually she said she was rubbing shoulders with David Miscavige, the powerful head of the Church, and his wife, Shelly Miscavige.
"He [David Miscavige] is very, you know, charismatic," Remini said. "He's very powerful… he's likable."
Remini and Pagan were married in 2003 and the couple welcomed a daughter the following year, although Remini admits that she deviated from L. Ron Hubbard's expressed preference for drug-free births.
"I got that epidural as quickly as possible," Remini said. "I was going to attempt to do it, you know, for my Church… But you know, when you start feeling a baby coming out of your vagina, I could have-- if there was a rock I would have hit myself over the head with it."
That same year, Remini said she made an important friend through the Church -- the world's most famous Scientologist, Tom Cruise, who declined to comment for this report. Meeting Cruise, Remini said, "at first it's very effusive, it's very loving."
"You get the laser in on your and you're the most important thing that ever happened," she continued. "It's, 'what are you doing?' and 'how are you doing?' and 'yeah, great, great, great, great, great.'"
Remini said the exposure to Cruise opened her eyes to his vast influence within the Church, an influence she says was exemplified by a call she received one night from a Church official, who she said told her that Cruise wanted her to come over and teach him salsa dancing.
When she arrived, Remini said two high-ranking Scientology officials were there with Cruise and Katie Holmes, his new girlfriend at the time.
"He was like forcibly kissing Katie and I said, 'hey, get a fricking room,'" Remini said. "And well, I was written up for that, and I had to go into session for it."
Remini said one of the Church officials there that night reported her comment to the Church. It's common practice, she said, for Church members to regularly write what are called "Knowledge Reports" on one another for breaking rules. Remini said the accused then have to answer to the allegations in auditing sessions.
"You can assume if you say something that is critical to the Church, you will be written up," Remini said. "Husband, wife, mother, daughter, it's what the group does to regulate itself."
Remini admits to writing Knowledge Reports herself frequently, including on her own husband. "I wrote Angelo up all the time," she said.
After that, she said she continued to spend time with Cruise but didn't hesitate to speak up when she thought he was damaging the Church in the public view, including in 2005 when Cruise criticized Brooke Shields for using antidepressants and he argued with Matt Lauer about psychiatry during an on-air interview, as well as when he jumped on Oprah's couch during a widely discussed television appearance in 2006.
"I'm saying, 'I don't think he's becoming of a Scientologist, jumping on couches, and attacking Matt Lauer… and attacking Brooke Shields,'" Remini said. "Like… 'What the hell is this guy doing?' … we need to rein it in, we need to stop all this, and he just needs to be an actor."
But after she spoke out about Cruise's actions, Remini said she "was immediately dealt with," saying she was taught that "the only reason you're saying these things is because you have your own transgressions."
"So you then become guilty," she continued. "So being critical of Tom Cruise is being critical of Scientology itself. … You are a person who is anti-the aims and goals of Scientology. You are evil."
Remini said she was increasingly dismayed by the fawning attention Church officials heaped upon Cruise, who was extremely close with David Miscavige.
"I would refer to him even in my own sessions, I was like, 'you're doing this for a frigging actor?'" Remini said. "It was so beneath what was truly important. He's just an actor."
read more: QueenieAustralia one shoulder formal dresses